Work on the go with 3CX's Softphone
With native softphones for iOS, Android, Mac and Windows 3CX's softphone enables your team to stay connected and work-on-the-go no matter where they are. The softphone is included in 3cX at no additional cost and includes features such as website live chat, CRM, Facebook and WhatsApp integrations, SMS, chat, status and more. Make sure your team never misses an important call or message again! End-to-end encrypted worry not about data leaks or hacks. Configuration is super easy with the simple scanning of a QR code.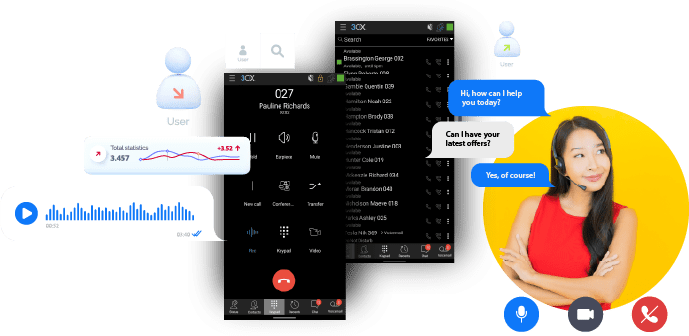 Manage calls, messages, chats and video conferences dirctly from your device – smartphone, tablet or laptop.  
Compatible with iOS, Android, Mac & Windows
Install the softphone on your iOS, Android, Mac or Windows device and keep working as if you never left the office. 
Facebook, WhatsApp Video & More
With Facebook and WhatsApp integration as well as chat and video you are certain that no message goes unseen.