Grow your Customers with a Cloud Contact Center Solution
A cloud contact center solution allows you to access all your contact center data – contacts, reports, queue and call information etc. – from anywhere. In addition to this all you digital communications platforms are unified and accessible from one intuitive and central dashboard. mConnect's cloud contact center solution integrates your social media, messaging apps, CRM, email ticketing system, calls, video and SMS into one easy-to-use interface. As a result, you will see a growth in customer retention and satisfaction levels as well as a boost in your agents' productivity and efficiency.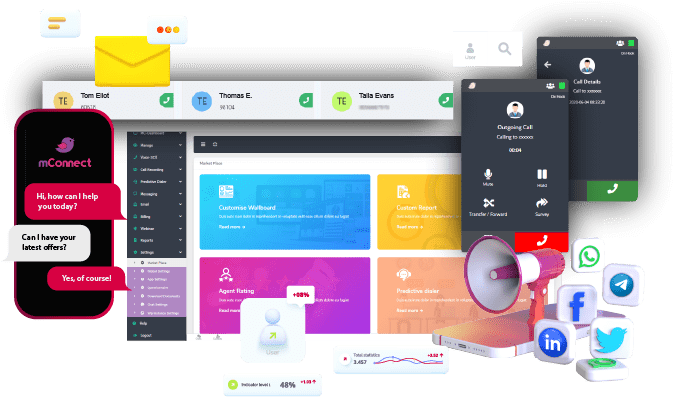 Save agents' time by enabling them to login to a single dashboard for all their communications channels and make sure you never miss a call or messages again! 
Cloud-based Contact Center Solution
Cloud Contact Center Solution means that you can access mConnect from anywhere. You can help and guide your agents remotely and in turn they can do the same for your customers. 
CRM, Billing & System Integration
Integrate mConnect's cloud contact center solution with existing software and programs you're currently using such as CRM, billing systems and ERP.